Learning solutions that increase knowledge improve performance and provide impact
We are in the business of positive transformation. We provide Corporate Training that enhances business results and, Skills Training & Vocational Education in tandem with industry requirements to enable sustainable transformation
We support organizations in improving their ability to service their customers needs through innovative and creative training interventions, consulting, and business improvement solutions.
Personal Development
Our personal development training helps to develop people and enable organizations to become more effective, more able, more agile, more communicative and more competitive.
An individual's effectiveness is fundamental to personal career development and to the success of an organization. Our range of personal development programs will help your people at all levels.
Our portfolio of workshops include:
Achieving Work Life Balance
Assertiveness and Self Esteem
Career Coaching
Communicating with Confidence
Creative Thinking
Dealing with Change
Effective Decision Making and Problem Solving
Presentation Skills
Handling Stress/Pressures in the Workplace
Influencing with Impact
Time Management
Personal Assertion
Professional Writing Skills
Speaking to Groups
Unlocking Your Potential – Developing Your Positive Inner Self
Using Counseling Skills in the Workplace
We do undertake need based tailor-made trainings in the field of:
HR Professional Training
Supervisory / Management / Leadership Training
Workplace / Soft Skills Training
Technical Training
Our Head Trainings: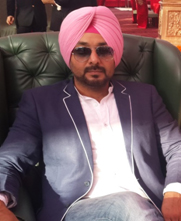 Mr. GurinderMatharu is a seasoned professional with nearly 16 years of extensive experience in spearheading diversified functionswith corporate firms, NGOs & Educational and professional institutes.
His qualifications and extensive research on Human Behavior with diverse life experiences gives him a unique perspective in understanding human reactions on several significant levels. He has combined all his professional experiences in Leadership coaching, Psychology, cognitive neuroscience and biological science with his own personal experiences over the years, to lead and motivate others .
He has been studying human behavior over a decade, and today he strives to dedicate the extensive knowledge and experience to help people to lead a fulfilling life that they would love. As a life coach, he offers guidance and support in making positive changes that enable you to work towards goals you have set for yourself. He helps people develop their full potential as a person, and put more zest and peace in their lives.
Presently, he is a Corporate Trainer, and a Development Consultant to Schools and Colleges. He is based in Chandigarh.